Strategic Enrollment Committee Members
The SEM committee will report to the Provost/Executive Vice Chancellor of Academic Affairs, who will also serve as Ex-Officio. The SEM committee will advise the Chancellor and liaison with key campus stakeholders, including, but not limited to: Council of Deans, Faculty Council, Staff Advisory Council, Missouri Student Association, Graduate Professional Council, and the Alumni Association.
The SEM Committee will operate as a steering group and be comprised of campus representatives. A series of subcommittees centered on core content areas will also anchor these efforts and subcommittee membership will include broad participation from additional faculty and staff. Reporting to the SEM committee, these initial subcommittees will include but are not limited to: market research, student recruitment, marketing and communications, and student success.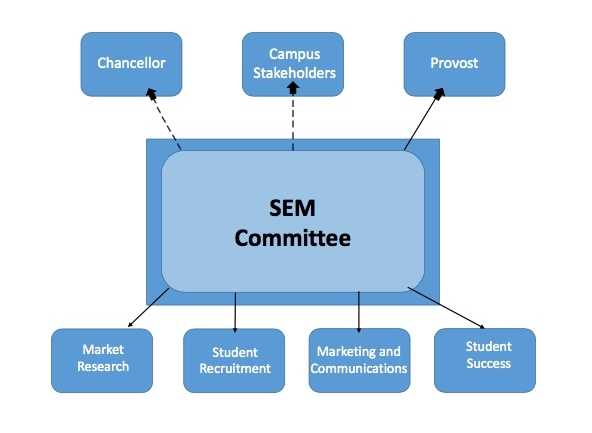 Co-chairs
Kim Humphrey
Interim Vice Provost
Enrollment Management
Pat Okker
Dean
College of Arts and Science
---
Committee Staffing
Chrissy Kintner
Assistant to the Vice Provost
Enrollment Management
Marty Oetting
Campus Chief of Staff
Chancellor's Office
---
Members
Bradley Curs
Associate Professor and Department Chair for Educational Leadership and Policy Analysis
Education
Mardy Eimers
Vice Provost
Institutional Research
Joseph Erb
Assistant Teaching Professor
English
Laura Friedrich
Senior Student Service Coordinator
CAFNR
Rhonda Gibler
Vice Chancellor
Finance
Ashli Grabau
Sr.Consultant
Assessment & Planning
Student Affairs
Jeni Hart
Associate Vice Chancellor
Graduate Studies
Associate Vice Provost
Advanced Studies
Chrissy Kintner
former MU Staff Advisory Council Chair
Assistant to the Vice Provost for Enrollment Management
Todd McCubbin
Associate Vice Chancellor
Alumni Relations
Kevin McDonald
Vice Chancellor
Inclusion, Diversity & Equity
Casandra Harper Morris
Associate Professor
Higher Education-Educational Leadership & Policy Analysis
Sean Olmstead
Coordinator
LGBTQ Resource Center
Lori Popejoy
Associate Professor
Nursing
Latha Ramchand (Ex-Officio)
Provost/Executive Vice Chancellor
Academic Affairs
Stephanie Reid-Arndt
Associate Dean for Academic Affairs
School of Health Professions
Jim Scott
Interim Vice Provost
International Programs
Jim Spain
Vice Provost
Undergraduate Studies & eLearning
Marty Steffens
Professor, Chair in Business and Financial Journalism
Journalism
Marshall Stewart
Vice Chancellor
Extension and Engagement
Doug Valentine
Graduate Professional Council
Doctoral Candidate-Sociology
Justin Walensky
Associate Professor and Associate Chair for Undergraduate Studies
Chemistry
Gary Ward
Vice Chancellor-Operations
Interim Vice Chancellor-Student Affairs
Alek Willsey
President
Graduate Professional Council
Julia Wopata
President
Missouri Student Association