Strategic Enrollment Committee
Background
The University of Missouri is at a critical point with regards to enrollment management. After decades of defining success by continued growth, the campus has experienced a significant drop in First-Year student enrollment for the Fall 2016 entering class, and early indicators suggest that prospective student interest at the undergraduate level has waned and the Fall 2017 and 2018 entering classes will be smaller than in years past. Additional factors relating to enrollment management include the lack of a formal institutional strategic enrollment management plan and an ongoing fiscal challenge at the state level.
Historically, MU has benefitted from a singular definition of enrollment success (growth), with limited macro level strategic enrollment planning to accomplish a holistic set of enrollment related goals. Previous planning efforts focused on micro level student recruitment strategies with a high degree of focus on First-Year students in new and emerging markets.
Moving forward, it is critical that MU embrace a more comprehensive approach to enrollment planning and develop a broad reaching strategic enrollment plan that encompasses:
academic program offerings;
an institutional marketing and communications plan;
student recruitment plans;
student success planning.
These efforts will also provide MU with a much-needed focus on macro enrollment efforts regarding:
net tuition revenue;
revenue distribution;
tuition and pricing models;
student yield, student retention and degree persistence;
student academic quality;
student mix (transfer, graduate, etc.);
institutional market research.
Charge
The SEM committee at the University of Missouri is charged with developing institutional strategic efforts and policy initiatives to advance our collective enrollment efforts. We will develop strategies to maximize student recruitment and student success efforts, market research, and institutional infrastructure. The overarching goal is to ensure a thriving postsecondary ecosystem for future and current Tigers, as well as alumni.
Guiding principles
Our first SEM plan will be the first of many formal strategic opportunities to advance our enrollment efforts at MU. The presence of an assessment and strategic culture will provide us with a clear and achievable road map to meet short, mid, and long-term strategic objectives. To this end, we will anchor all our planning efforts with the following guiding principles and values:
Respect
Excellence
Discovery
Responsibility
Committee structure
The SEM committee will report to the Provost/Executive Vice Chancellor of Academic Affairs, who will also serve as Ex-Officio. The SEM committee will advise the Chancellor and liaison with key campus stakeholders, including, but not limited to: Council of Deans, Faculty Council, Staff Advisory Council, Missouri Student Association, Graduate Professional Council, and the Alumni Association.
The SEM Committee will operate as a steering group and be comprised of campus representatives. A series of subcommittees centered on core content areas will also anchor these efforts and subcommittee membership will include broad participation from additional faculty and staff. Reporting to the SEM committee, these initial subcommittees will include, but are not limited to: market research, student recruitment, marketing and communications, and student success.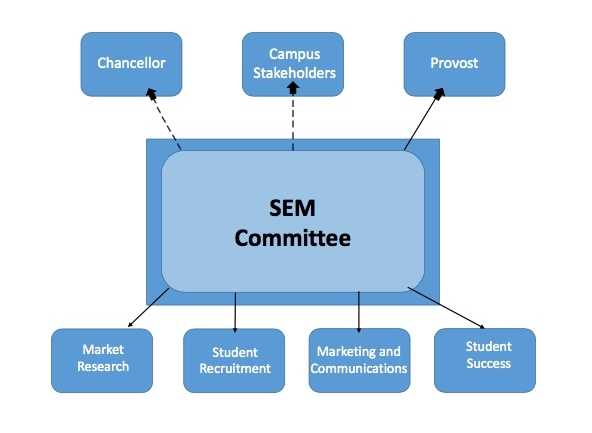 Committee members